(Calgary, AB) – December 11, 2013 –   New Method for Full Well Density Mapping with CT Scout Scanning!
PERM Inc. is excited to announce a new method of obtaining accurate Density Maps with millimeter resolution from CT Scout Scans.
This new method is quick (turnaround of ~1-2 days) and is 100% non-intrusive and non-invasive.  It is performed on core that remains in the core tubes and can even be done on frozen core.
In addition to accurate density maps/profile (with LAS file), the client will receive images of the core at 0° and 90°.
All this starting at just $150/meter!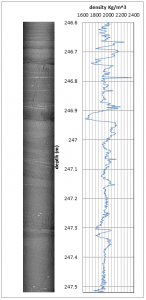 FULL WELL FULL CORE CT SCAN & DENSITY MAPPING
Core Images at 0° and 90° for Entire Well
Density Map for Entire Well
LAS file
Starting at Just $150/meter! PDF Attachment
More Advanced CT Scanning is also available including full 3D reconstruction, density, porosity, bulk mineralogy and fluid saturation.
Contact us today to enquire about the core scanning services.